Partnership to start with community outreach and education
By Nicholas A. Johnson Herald Staff Writer
Looking to scale up its food waste diversion program, the city of Durango has entered a public-private partnership with local curbside composting company Table to Farm Compost.
Through education and outreach strategies, the city and Table to Farm hope to increase voluntary participation in curbside composting. If education and outreach programs are successful, the city will evaluate the possibility of scaling toward mandatory participation in three to five years.
"Providing opportunities for food waste diversion while ramping up education around existing recycling programs and opportunities for waste reduction will be critical to reducing solid waste emissions and achieving community greenhouse gas emission goals," said Imogen Ainsworth, city of Durango sustainability coordinator. "We are excited about this new partnership with an established local company and the potential benefits for our community as we work together to innovate and scale up food waste diversion in Durango."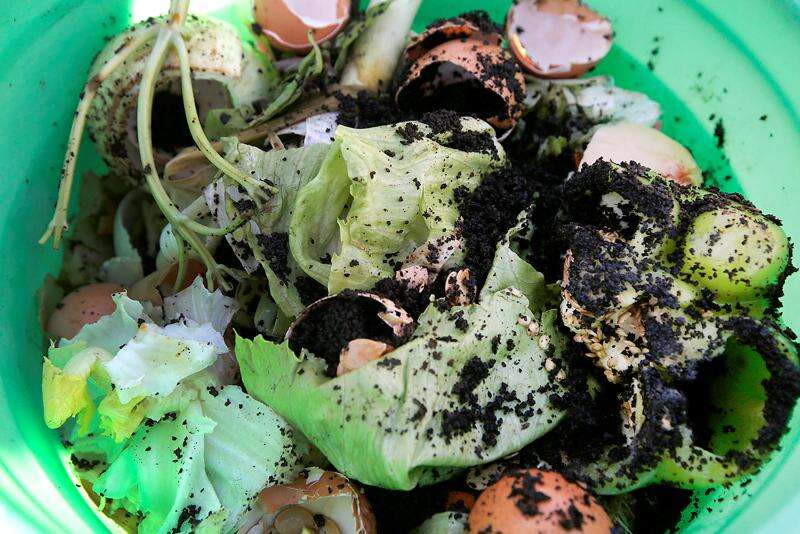 Table to Farm Compost was collecting between 150 and 200 gallons of food waste a day in 2018. (Jerry McBride/Durango Herald file)
Table to Farm Compost is a locally owned company offering curbside compost collection in Durango since 2016, along with a line of high-quality compost and artisan soil products.
Partnership between the city and Table to Farm allows Durango to work toward the waste diversion goals the city discussed in its 2021 Strategic Plan, and the greenhouse gas emissions goals that were set by City Council in 2019.
"This will help us reach the communitywide emissions goals that council adopted in 2019, which is an 80% reduction in communitywide emissions by 2050 and a 30% reduction by 2030," Ainsworth said.
Currently, the city does not have a set goal for the food waste diversion program. At this point, the program aims to stay on track with the state goals, which is 35% food waste diversion by 2026 and 45% by 2036.
A 2015 waste audit found food waste makes up about 20% of Durango's household waste, and about 1,300 tons of food waste are sent to the landfill every year.
Landfills are the third largest source of human-caused methane emissions, behind transportation and livestock, according to the 2019 Environmental Protection Agency Inventory of U.S. Greenhouse Gas Emissions and Sinks.
"Our goal is to make composting easy and intuitive," said Taylor Hanson, managing member of Table to Farm Compost. "We provide a 5-gallon bucket that we pick up weekly. Not only does recycling food scraps help reduce your trash footprint, it also makes your trash bin less smelly.
"It feels good to do something that makes a meaningful impact," Hanson said. "Each customer gets a compost dividend, which increases soil health and local food production and encourages awareness of the economic and environmental circularity of composting and its benefits to our community and La Plata County."
Diverting food waste from landfills reduces greenhouse gas emissions that occur when organic matter breaks down anaerobically. The application of finished compost may have further benefits by contributing to healthy soils that sequester more carbon.
Table to Farm is working with Boulder-based nonprofit Eco-Cycle to study the carbon impacts of compost-application through the Community Carbon Farming Campaign.
"We are currently looking for local residents interested in 'carbon farming' in their backyard to help us study the impact of compost application on soil health," said Dan Matsch with Eco-Cycle. "We are working with three communities across the nation and, thanks to our partnership with Table to Farm, we are excited to be offering this program in Durango."